Ever been to Clark Pampanga? Well, if you haven been there, maybe its time you dropped by.
We went to Clark a couple of weeks ago and as usual with travelers, 1st concern is always where to stay.
Here is one of the best value for money hotels that you can find in Clark.
This hotel used to be known under a different name until it was bought by a Filipina, Ms. Elizabeth Carlos – Timbol
( Ms. Timbol is the one on the far right beside MR. Pinoytravelblog.com)
What's great about this hotel?
Well, for starters, it has a swimming pool at the back.
The pool is open until 12 am.
EuroAsia Hotel started its operations last 2009.
It has 68 rooms in 3 floors
Here is a look at its Executive room. 1 Double bed and 1 single bed.
Heres a shot of the standard room. Nice right?
Here's the deluxe room – which also has a bathtub in the bathroom.
And now for my favorite room in the entire hotel.
This is the premiere room.It has its own sala, bedroom, bathroom and eating area.
For more information, you can visit their website : http://hoteleuroasia.net/
Here are their current rates.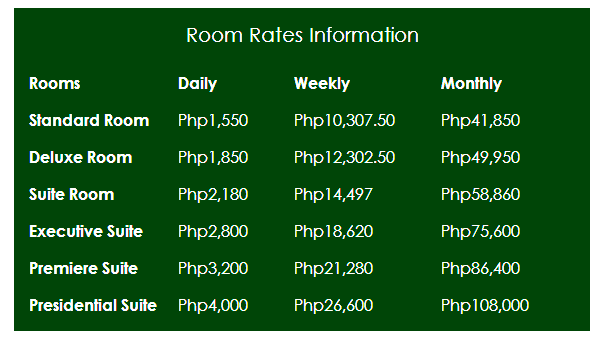 All rooms have cable tv, and hot water in the bath rooms.